It's been a long time since I participated in the Random 5 series over at The Pebble Pond. Hopefully I'll be able to get back into it - I enjoyed the series.
1. JUDE FINISHED ADDITION!!!
This is super-exciting because it has taken him forever to finish this section of his math book. We've had to stop and do other sections because he was frustrated with all of the work learning all the ways to reach a particular number. We've been breaking it up with other things (learning to tell time, measuring, etc) to keep from burnout. He's already pretty good at subtraction (five cookies take away two leaves three!) so we are already flying along there!
2. Speaking of Math, Luke helped Matthew with his Math homework. I had no clue what it was -- I was an English major for a reason, and Math was it!
Thankfully Luke was able to help him out.
3. Damien is back with his beloved Miss Jaime, the feeding therapist. He had a re-evaluation this week, and will start therapy again next week. The biggest issues for him are pacing and remembering to chew.
4. We had mostly ice and rain this week, but over by the hospital they had Snow with a capital S. I'm glad I didn't have to shovel it, but it certainly was pretty.
5. Matthew brought a new painting home from Art Club on Thursday. If I stare at it long enough, I can pretend I'm on that beach, right?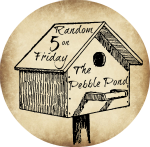 ©2012- 2013 Adventures with Jude. All rights reserved. All text, photographs, artwork, and other content may not be reproduced or transmitted in any form without the written consent of the author.
http://adventureswithjude.com