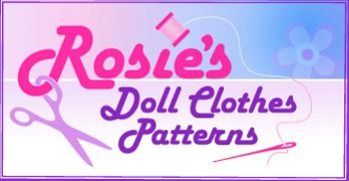 For several months now, Celia has told me she wanted to learn how to sew. When the opportunity to review
Rosie's Doll Clothes Patterns
came up, we jumped at the chance. Gram taught Mom how to sew, Mom taught me, and now is my turn to teach my daughter. I am excited Celia wants to learn because it really is a useful skill, and depending on what you are making, a real expression of art. I have sewn everything from children's clothing to figure skating costumes for the boys
;
in fact, I made many of Celia's clothes until she was a preschooler because her medical issues kept her from fitting into standard sized baby clothes.
Starting out with doll clothes is perfect - the items are smaller, meaning the scale of the project is as well. Less cutting, less fabric to try to not catch in the machine, and still something she can show off when she is finished.
Learn How to Make Doll Clothes Video Course with 8 Free Doll Clothes Patterns
is designed to teach you how to sew in about 12 weeks, but the year-long access (US $47.54 or AU$49.94 - note US prices may fluctuate slightly due to exchange rates) gives you plenty of time to work at a relaxed pace. (The program is geared toward students ages 8+; Rosie also offers a DVD copy of the program for a one-time cost of US$66.53/AU$69.94, which may be more economical if you have several young seamstresses or tailors in the wings.) The patterns included are for 18" dolls - perfect for making clothes for Celia's American Girl Dolls Rebecca and Katie. There are also patterns made to fit clothes for a Cabbage Patch style doll. They can either be purchased separately, or you can email Rosie and request to switch to them, if you do not have a dolly to sew for that fits the other patterns.
Special price note from Rosie's Blog:
From now until midnight on the 24th December, 2013 when you purchase my How to Make Doll Clothes video course I'm giving away an additional pattern of your choice absolutely free!
By now you are probably wondering, "OK, who is Rosie?" Rosie is a mom from Australia who loves to sew. She too learned how to sew from her mom at a young age. When her daughter asked her to make clothes for her doll, she put her seamstress skills to work...except she found that sewing doll clothes was not quite the same as people clothes. At first, I thought Rosie put things together in a strange pattern, but
for sewing doll clothes, the steps make perfect sense! Her experience and persistence really shine here. For example, she starts with the hem of the shorts (Pattern No. 1). For a beginner, this makes sense since it is a straight line - a good place to start - rather than a curved seam. However, the "secret trick" here is sewing it while flat means you are using your machine to run up the hem, and are not hand-stitching because there is just no way a the leg is going to fit around the arm of the machine. This is something I had not considered (see all those sleeve hems up there that I should have done before sewing the arms...). Even for experienced seamstresses, this program is a worthwhile course if you want to make doll clothes with less aggravation.
This program has two six week long sections - a "how to" instructional, then sewing practice. There are two ways to work on the program.
1- Watch all of the background info (or at least the first three weeks' worth of videos), then dive into the sewing pattern.
2 - Watch Week 1 Lesson + Week 1 Pattern simultaneously.
In total, there are
130 individual videos
, from "What tools you need" to "How to finish off your seams." When I first looked at the site, I thought we would do the pattern right away, because Celia is itching to sew something. However, after looking over the site before we started, I realized there was so much background information to sewing. Much of it I learned by watching my mother - nobody ever showed me how to lay a pattern, I just watched and helped her enough that I knew. I never realized how much I had just "picked up" over time. Most of the sewing I did was when Celia was little, so while she did watch me, she wasn't really paying attention or helping.
If you're new to sewing, I recommend really trying to be patient. Watch the how-to videos,
then
go into the pattern section and start sewing. This way, you have the opportunity to learn about different sewing tools, and then go to the sewing store and get ones you wish to have. (I need me a Bodkin to help with elastic! I have always just hooked a safety pin on the end and used that to feed it through, but invariably it opens midway through and sticks in the casing.) You'll also learn about coordinating laying out a pattern with a fabric's grains, patterns, and nap, which is especially important if you want to use remnant pieces. We have been going slowly - watching a few videos at a time. Now that we have made it through many of the background videos, we are getting to making our first item - a pair of shorts. (Or, rather, two pairs of shorts, because Rebecca
can't possibly
have new clothes and not Katie!)
There were several things I'm glad that Rosie said. One actions she was most emphatic about -- DON'T USE FABRIC SCISSORS ON PAPER!! I've been saying this forever and ever, and constantly rescuing my "good" fabric shears from the hodgepodge of scissors. (At one point, I even put a band-aid on the handle so I knew they were the "new" good ones.) Now that someone else has said not to do it...
There is a video on how to print your patterns. It seems silly, but you want to make sure you choose the correct printer settings, or else your pattern pieces may print differently. If you're making something with multiple pattern pieces, if you do not print it right, your outfit will not come out right. It stresses making sure you have "fit to page" unchecked and you are using the proper size paper.
The patterns are downloaded in two files: the pattern pieces and the instructions. The patterns themselves have length on them, so you can gauge how much fabric you need. Many pieces can be used with larger scraps (usually less than half a yard; depending on what you are making, a fat quarter could be sufficient), but if you are going to be choosing "new" fabric, print your patterns/instructions
first
so you know how much to ask for at the fabric store. The printable directions that go with the patterns also include a notions list, including any "optional" things (like buttons to decorate the night dress' bodice).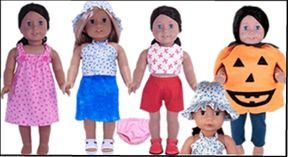 Aren't these outfits adorable? All of them are included with the program!
Each written step has a video to go with it. So many times, I have looked at the "next step" of a pattern and said, "WHAAAAT?" because the writing and what I am holding in my hand do not mesh into a clear visual. So many times I have called my mother, "OK, I give. What is this telling me to do?" (My mother is a fantastic seamstress - she once designed and made a dozen elf costumes in under a week for a Christmas play for my grade school. Although, to give credit where it is due, my father is an amazing pattern maker and seam presser as well.) Usually we figure it out because she has already made something similar, but it is hard for me to describe what I am doing and what I want to do and make the imagery work for her, too. Once I have done it (and seen it!) I am invariably left thinking, "Duh." The next time I do that pattern, or make something else similar, the pattern makes sense. Having the well narrated and clearly recorded videos to go along with each step helps it make sense before I start muttering under my breath.
I think it is wonderful that Rosie is open to suggestions from her clients. For the nightie, she has "her" way of making the shoulder straps. Another seamstress tried it, struggled, and worked out a way that was easier for her, then shared it with Rosie. Now the pattern contains "alternative directions" that include the new method, in case that process makes more sense to others as well.
After a month of watching the videos, Celia is excited to
finally
be ready to sew. While it might be possible for an older student to sit through the videos in a few days, being only nine with a shorter attention span plus having homework and projects to work around means it has taken us longer than she would like. I have watched ahead to the sewing videos, and although she may need a little help working my sewing machine, I really think Celia is going to be able to make the items almost totally by herself. (Rosie discusses recommended stitch length and tension, but does not really get into specifics on how to set these, since all machines work differently.) Celia has her dolls, her fabric, and her notions, and is ready for
Rosie's Doll Clothes Patterns
to help her start sewing wardrobes for her "little girls" - just like Mom.
.
There are lots of very well dressed dollies now!
Read about how Crew families made wardrobes for their dolls by clicking the banner below.

©2012- 2013 Adventures with Jude. All rights reserved. All text, photographs, artwork, and other content may not be reproduced or transmitted in any form without the written consent of the author.
http://adventureswithjude.com