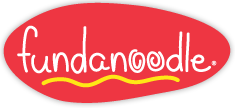 Fundanoodle
is an "education readiness" series of programs, designed to develop the skills needed for handwriting and other everyday activities. The
program
contains
15 modules
that address:
Fine and gross motor coordination
Eye-hand coordination
Tactile and visual exploration
Problem-solving, discovery, and self-esteem
Fundanoodle believes that learning these skills should be fun. Their programs attempt to bring a bit of whimsy to learning. They have several levels of programs. The youngest level, with the offerings color-coded Orange, are geared toward three-year-olds; Blue level programs are for PK/K students, and elementary levels Green (first grade) and Purple (second and up). We received the blue level PreK to K Muscle Movers: Upper Case Gross Motor Cards ($16.99).

Although they are geared for ages 4-5, I thought these would fit right in in our house. Damien, aged 3, already knows his letters; Jude, age 6, is delayed enough that he's still figuring them out. Jude can trace, Damien can't. Ying and yan. I was intrigued because they are "occupational therapist developed." Since we have at least one OT for each kid on speed dial, I though they would be good for us. Also, given our life revolves around therapy appointments, I'll admit I am a bit skeptical and jaded. I wanted to see if the "OT developed" was hype or helpful.
Each card had an animal that started with the letter (armadillo, beaver, cow) and a gross motor activity for the animal (roll, gnaw, moo). As we went though the alphabet, we alternated choosing a card, acting it out, and tracing. Jude was able to write on his own; Damien usually needed a little help.
The boys enjoyed acting out the animals!
Not all of them were active play. Iguanas hold still.
And even the biggest Falciani kid found them to be fun. Luke was supposed to be doing grammar and vocabulary but decided this looked more exciting.
Snakes slither!
We had a little bit of miscommunication when it came to the letter V and vampire bats. According to the Muscle Movers card, they fly. According to Jude...well, vampires suck blood.
I think by the letter V we were a
little
too wound up. One thing I noticed as we moved through the alphabet -- it was harder and harder to settle down to write our letters after acting them out. Instead of sit-down-and-waits being every few letters, as we approached the latter third of the alphabet, we were starting to have time outs every other letter. They were getting so excited and wired that we were having safety issues.
Damien has gotten better at tracing - he did this all by himself. But it took several minutes for him to stop racing around and sit for his turn.
The cards themselves are made out of heavy laminated paper, and the dry-erase marker wipes off very easily. On the back side, the tracing letters are clearly marked. Not only are the letters themselves clear, the top and bottom are well defined. The top of the letter has a green line, and the bottom is lined with a red line. This helps visually show the top, where you start a letter -- a "go" point; the red shows "stop." (It's also really helpful with letters like M and W that can be tough without some actual cues.) They come with a hole punched in the upper corner and a metal ring, so that you can keep them together. I appreciate not needing a box (that always tears) or a rubber band (that may break, or in our case, we are allergic to!). I wish the dry-erase marker that came with them had a hole at the end, so you could string it on the ring as well. I've already had to go hunt it down several times when we wanted to play with the cards.
Jude's therapists (PT and OT) have asked if we would bring schoolwork with us for his visits. This way, what he is doing there will help reinforce what he is doing at home -- and save him from having to do two hours of therapy and then go home and do a full day of schoolwork. At one of our OT visits, I brought these cards. I told her that we had started using them "as directed," and then had started working with them only a few at a time. We would do three or four letters, and then take a break for some table work, and then go back and act out a few more when wigglies became an issue. We still were having struggles transitioning.
Miss Amanda (Jude's occupational therapist) and I agree that maybe with a neurotypical child who transitions easily, these would work more easily. From a "therapeutic" viewpoint, we both agreed that they "might" do what they claim, but at the least, "sensory" as listed was a stretch. The visual clarity was fairly obvious, but overall there is very minimal tactile sensory input. If anything, there was too MUCH sensory stimulation with the activity and noise! Her recommendation was to do one activity for a group of cards - for example, take the letters A through E, do ALL the motion, then sit and do ALL the writing, then do ALL the alphabetical ordering. If we want to move on and do F-J, etc., we can, but rather than having to constantly change activities, we would be doing each for several minutes before moving on. We'll be trying that, as well as playing "pick a card" as a one-and-done gross motor activity, or just putting cards in ABC order. However, we will probably not be using them "as directed."
Sleepy, purring kitties.
These cards have lots of both familiar and less-common animals on the front, and a clear tracing guide on the back. However, the reason I really, really wanted to review these is because they provided gross motor activity combined with literacy activities, which Jude desperately needs. (When you're six-plus years old and functioning on par with a not-quite-three-year-old, you sneak "therapy" in anywhere you can.) I admit, I was hoping that we'd love these cards so much we'd go back and purchase other sets (click the Schoolhouse Review Crew banner below and read the reviews of
Fundanoodle's
other products), but since these fell short for Jude's needs, we probably won't be adding to our Blue collection in the near future. I think that we may look at some of the Orange level items for younger students for Damien, and revisit the Blue as he gets older and maybe is not working alongside Jude.

©2012- 2013 Adventures with Jude. All rights reserved. All text, photographs, artwork, and other content may not be reproduced or transmitted in any form without the written consent of the author.
http://adventureswithjude.com