This week's Random 5:
1. Two more weeks until our Fall break! I think we can, I think we can... We skipped a summer break in order to take off in October when dear friends come to visit, and we're now playing "beat the clock." Can we finish this unit? What else can we squash in, so we hit a good stopping point? This is the farthest out I've ever planned lessons, because I want to make sure it all lines up right.
2. This is post no. 3 for this week, so I've met my blogging goal for the week. YAY!! I want to get into the habit of posting three days each week. We'll see if I can keep it going, but hey, baby steps!
3. Do boys ever stop eating? The last three Fridays, I've gone grocery shopping after Jude's PT appointment. I bring it home, put it away, and we can't budge in the fridge. By Tuesday there are gaping holes.
4. Tomorrow is my mom's family's reunion. I'm excited to go and catch up with everyone! Many of us are friends on Facebook, but there's nothing like seeing people in person! We should try to figure out just how many Danks descendents there are these days...I don't even know where to begin guessing how many cousins there are!
5. I'm so proud of Jude. Today was his first phonics test, and he aced it! He
wants
to read, and he's really trying. Things are starting to click!
Come join the party at the
Pebble Pond
!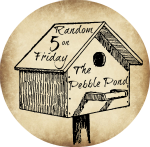 ©2012- 2014 Adventures with Jude. All rights reserved. All text, photographs, artwork, and other content may not be reproduced or transmitted in any form without the written consent of the author.
http://adventureswithjude.com