Trident Case
manufactures protective cases for smartphones, tablets, and e-readers. The cases are made in the USA and created to meet military standards for strength. I admit, I'm not about to try running a tank over my iPad, but I do have a preschooler on the go. Everyone took turns playing or watching videos on the device, but three-year-old Damien was the
Kraken A.M.S
' toughest
abuser
tester. The Kracken A.M.S for iPad Mini 1/2 retails for $59.95 and is available in seven colors (we received a blue case).
a shock-absorbing silicone inner layer, covered by a hardened polycarbonate outer-casing and a built-in screen protector
double-thick, impact-resistant silicone corners
silicone plugs and dust filters keep dirt and debris out of Kraken A.M.S. power-ports, audio-jacks and speakers.
the eco-friendly case is recyclable, degradable and compostable
Kraken A.M.S. cases meet Military Standard MIL-STD-810F for Drop, Vibration, Dust, Sand and Rain
When our case arrived, our iPad Mini was in a leather pocket case that turned the iPad off when closed. It also had a crack in the corner of the screen. After a trip to the Apple Store and a replacement (yay AppleCare!), the new iPad went immediately in the new case. It was a bit tricky at first. Trident has created a
YouTube video
that demonstrates how to put the device into the case. I
highly
recommend watching this video. It is only four minutes long, but it will save you more than double that in aggravation of getting it onto your device. It's reasonably intuitive, but there are a few specific steps that you'll want to see to make sure that your case closes properly around your device, including disassembling the
entire
case, not just separating the outer plastic sides.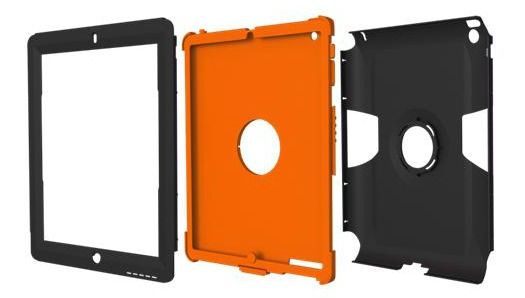 (To assemble, you place the device in the silicone sleeve, and then snap the plastic casing over top.)
In addition, accessories such as a viewing stand, windshield mount, headrest mount etc give the user flexibility in where they use their device. (Note: the installation video shows the viewing stand in use. This accessory is NOT included with the case and is a separate purchase.)
Like the screen cover, the case itself has pros and cons. The slightly chunky design of the case, along with the silicone edges, helps Damien keep a better grasp on the iPad so it is less likely to fall. While there is a covering that attaches to the volume buttons, it often became misaligned and either needed to be wiggled back into place or an adult had to adjust the volume level because the buttons needed a bigger push than Damien could give them.
I will admit, I didn't purposely drop the iPad off of the table, or leave it out in the monsoon we had last week, so I can't say that yes, it will survive bouncing on the ground or getting left in the rain. However, I can say that it has hit the ground a few times, and gotten caught in the crossfire of a battle between apple juice and gravity, and is no worse for wear. The cons are pretty minor when you consider how much protection you are getting in the case. Overall, we are pleased with this case, and are considering purchasing one from the same line for another iPad that we own.

©2012- 2014 Adventures with Jude. All rights reserved. All text, photographs, artwork, and other content may not be reproduced or transmitted in any form without the written consent of the author.
http://adventureswithjude.com