1. Ignoring the weather forecast, we bought some seeds to start. Take THAT Polar Vortex! I'm sure we'll pick up a few more things - either plants or seeds, but for now, we have seeds for green beans, plum tomatoes, pumpkins, and basil.
2. Anybody else fans of Clinton, Stacy, and
What Not to Wear
? I have long loved the show and was sad that it finished. They are the voices in my head when I go shopping. I wrote about my resolve to follow the rules (and not cross the "frumpy" line anymore) over the summer, created a cute graphic, and
pinned it.
Guess who found it Wednesday night and not only re-pinned it, but commented? None other than . . . Mr. Clinton Kelly! What a thrill.
3. Today was Celia's "old" teacher's last day before Maternity leave. We had a small surprise party for her. I was in charge of getting the class gift - a baby tub filed with goodies. This morning, Celia told me there was going to be a party - and was stunned I already knew about it and had bought a gift two weeks ago. (The bags were hidden in my trunk and closet - she's not exactly the best secret-keeper!) You have not heard squeals until you've had 17 nine- and ten-year-olds oohing over teeny baby clothes. We wish Mr. and Mrs. G. all the best, and can't wait to meet their new little boy!
(PS. Welcome, Mrs. P.!)
4. We finally have Matthew's last Christmas gift organized. No - we aren't that lame. He got an IOU for the Broadway theater tickets he has long wanted - to make a long story short, we needed to organize around school, a babysitter for the little kids, and when we could get tickets. It will be the end of June until we go, but he's looking forward to his "One short day in the Emerald City." (Can you guess which show he wanted to see?)
5. Neal took a picture of Damien while Celia was playing her violin and submitted it to Reddit. It's gone viral...look at that face, I can't imagine why! (Honestly, she's not that bad!)
Have a great weekend!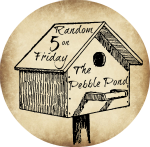 ©2012- 2014 Adventures with Jude. All rights reserved. All text, photographs, artwork, and other content may not be reproduced or transmitted in any form without the written consent of the author.
http://adventureswithjude.com