1. We met on the intranet at Temple University. It was a within-the-school community communications method. His online name was "Spawn" - the name of a comic book by one of his favorite illustrators, Todd McFarlane, which happened to be the favorite comic book of a high school friend of mine. (I had the most ever-so-clever screen name - "Meg" - and when I saw his name listed, texted him saying, "Spawn? Like the comic book?" and the rest was...history.
2. When we were kids, we probably sat next to each other in the mall and didn't know it. My mom had a cottage business crocheting baby clothes, and took part in many craft shows at a local mall. It was a great privilege to be allowed to attend the shows and help her on Sundays. Neal and his parents would go shopping on Sunday afternoons, and sometimes split up to do individual errands. Their usual meeting space was right next to where my Mom's craft table was assigned!
3. Our first date was on May 11, 1995. If my grandfather had still been alive, it would have been my grandparent's 49th wedding anniversary. Our second "date" was two days later - a very brave Neal came to a family party. After talking to him for about ten minutes, my grandmother reached over, banged me on the leg, and said, "You need to marry this one." I was absolutely mortified. But I guess she had Poppy whispering from heaven to her ear.
4. As if that wasn't enough family involvement, he also met my Aunt Dot. Sr. Dorothy Emig, SSJ, was formerly known as Sister Euphrasia, SSJ. When religious names were handed out to that crew of novitiates, the young girl behind her was named Sister Everista, and they became fast friends. Once they made their final vows, they were sent far afield but their friendship remained strong. Sr. Everista happened to the principal of the high school Neal attended, and he was well known to her. I doubt Aunt Dot had her jacket off and both feet through the convent door when she was on the phone to tell her good friend who she had spent the afternoon with. Thankfully, the convent consensus approved of us as well.
5. Sixteen years, five kids, six cats and a dog later, I am just as happy as the day the two of us left my childhood church, hand in hand and newly joined. I love you, Neal!
Before we know it, it will be her turn to be the bride.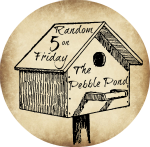 ©2012- 2013 Adventures with Jude. All rights reserved. All text, photographs, artwork, and other content may not be reproduced or transmitted in any form without the written consent of the author.
http://adventureswithjude.com