It's been busy this week!
1. We celebrated Damien's 3rd birthday!! What HAPPENED to my baby?? <sniffle, sniffle, SOB!>
2. There is also an almost-six-year-old who is anxiously awaiting his birthday next week. He's been so patient - first it was Celia's birthday, then mine, then Damien's. His little face is popping in - "Is it MY turn yet?"
3. Jude has been working on two reviews - Bible Study for All Ages, and Reading Kingdom. This was the first time he ever saw/read a word that wasn't decoded within the context of the reading program. The word he recognized? "NO!" (being shouted by Ruben)
4. I asked Luke to start dinner the other night, and came home to find Neal lending a hand as well. I'm guessing he didn't have such a good day at the office? LOL
5. This week
I
started a new adventure and became a
Lilla Rose consultant
! I'm very excited to bring these wonderful accessories to my family and friends. Celia and I have been wearing our Flexi-Clips non-stop, trying out new ways to wear our hair and trying to find any flaws with the clips. We can't find any! We love them, and hope you will too. Join my
Facebook Page
for updates on what's going on, and look for a giveaway here very soon!
Linking up with Miranda @ The Pebble Pond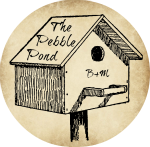 ©2012- 2013 Adventures with Jude. All rights reserved. All text, photographs, artwork, and other content may not be reproduced or transmitted in any form without the written consent of the author.
http://adventureswithjude.com