It's been a crazy week.
1. School is out!! Everyone got promoted to the next grade. Next week we'll finish up some Crew reviews, and then start in on summer assignments and "next year" by the end of the month.
2. We survived Celia's birthday party. Four almost-4th graders are very loud. Jude was their little shadow. He even decided that if the girls could paint, so could he. Except it was their toenails they were painting. They weren't sure if they should be horrified that a boy was using nail polish, or jealous that he didn't have a "no fingernail polish" rule at school.
3. Despite Mother Nature's best attempts at drowning my garden, my plants are hanging on. I even have little baby peppers! So cute!
4. Celia came racing into the house, screaming there was a bird with a broken wing in the yard. There were a bunch of birds flying around the house, and a few nearly crashed into it. I think this one didn't "nearly" crash - he did. We carried him out to the woods, on the premise that he'd be safer with the cover of trees, but honestly, I don't think he was going to make it and I didn't want him swooped up while the kids were watching.
5. Luke was supposed to be watching Damien while I cooked dinner. The idea was for Luke to make sure Damien didn't go after the grill. Somehow I think we need to revisit what "watching" actually entails...
Joining Miranda at The Pebble Pond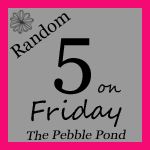 ©2012- 2013 Adventures with Jude. All rights reserved. All text, photographs, artwork, and other content may not be reproduced or transmitted in any form without the written consent of the author.
http://adventureswithjude.com