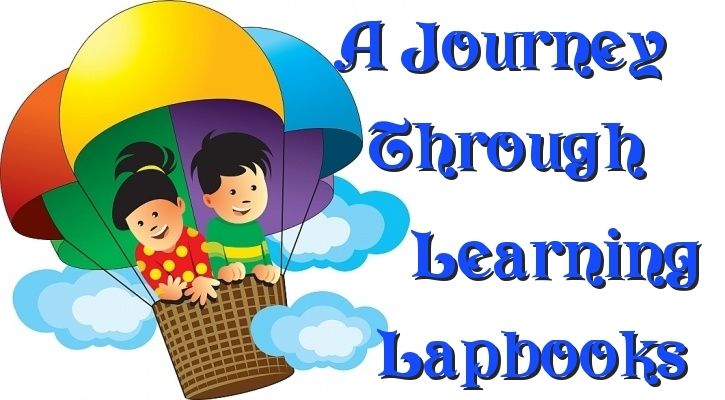 Our family recently was chosen to review
A Journey Through Learning's lapbooking system. We have never tried lapbooking before, so we were happy to try them out. Jude and Damien have been working on the
Letters, Numbers and Shapes
learning lapbook. Damien has mainly been using his as coloring sheets. He is not quite ready to use the book as intended (it is geared for ages 3-5, so we have plenty of time to come back and put it together "properly" when he's more of an "official" preschooler or kindergartener), but Jude has completed and assembled the entire book. Some of the activities - like colors and shapes - were very easy for him, but he did find some of the drawing and cutting activities to be a challenge.
One thing we discovered with lapbooks is they are very portable! We often have two or three trips each week to duPont hospital, and found that the lapbooks were great for our days there. In fact, one visit during the review period was to the neurologist for Jude. Having our lapbook with us was not only a great way to keep occupied, but also a way for the doctors to check out his fine motor skills, eye-hand coordination, and cognitive skills/speech (discussion of what he was doing) without Jude realizing he was being "examined." (I also now have scissors, a spare gluestick, and a mini-stapler living in my purse - pretty soon instead of a shoulder bag I will just start dragging a rolling suitcase!)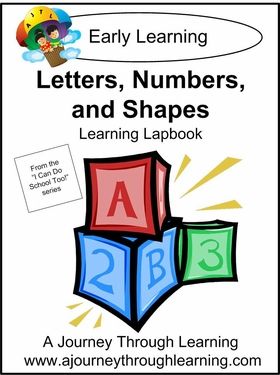 One area Jude struggles with is phonemic awareness. One of the activities was to draw or cut out pictures that started with a particular letter/sound. Jude cut pictures from a catalog for this activity. Bonus: extra scissor and fine motor practice.
I admit, there were some things he had trouble cutting. We compromised on him cutting out things that had simple straight or curved lines, while I cut out the more detailed shapes. Here he cuts out the colored squares, while I cut out the jack-in-the-box.
We worked together to assemble the book. He wanted to glue things in, but not necessarily where they "belonged." However, things did need to go in particular spaces in order for everything to fit properly. Again, we compromised - I would mark with a line or an "X" where to put things, and he would glue them in place.
Despite being a great book overall, I have two improvements to suggest to the creators. One is the pockets for the counting cards need to be resized. While it was a simple fix for us (our printer doubles as a copier so I just copied and enlarged them), it was frustrating and stopped the flow of what we were doing.
The other suggestion has to do with the font used. First, the letter "e" in the "write the words one through ten" pages was very squished and difficult to see start/ending points. Rather than an "e", the dotted lines looked more like "
θ." In addition, the starting dots did not align with our handwriting program (or several others that use similar patterns), so Jude was a bit confused on how to write the letter. In addition, other letters such as I and J did not have the commonly used top/bottom bars so identifying them correctly was difficult (for example, "I" was easily mistaken for lower case L ("l"). Finally, the letter A was not the commonly taught "circle with a line" shape but the more typewriter traditional "a," which again led to confusion. I think it would be better for practicing letters if their fonts aligned with the more commonly used handwriting programs.
Lowercase letter A used in lapbook
Example of more commonly taught (lowercase) letter A
I think lapbooking is a system of learning we are going to continue with - it's a great way to learn information and keep it in one place, it's a very portable way of learning, and it fulfills Jude's desire for arts-and-crafts based activity. This particular lapbook encouraged creativity. One section directed "color the shapes." Jude started to color a picture that I saw as "the sun peeking behind a cloud." He started to color the cloud shape green, and I asked him why did he choose that color? He very patiently explained, "Because that's the color of the grass on the mountain the sun is rising behind." Of course!
Other members of the Crew have been working on Journey Through Learning lapbooks, too. In all there are four lapbook programs being reviewed:
Letters, Numbers and Shapes
(ages 3-5)
The Earth
(grades 1-4)
Knights and Castles
(grades 2-7)
Astronomy and Space
(grades 2-7)
Please click through and take a look at what others have been working on. I'm definitely taking notes and planning to use these in our lesson planning for upcoming years!

©2012- 2013 Adventures with Jude. All rights reserved. All text, photographs, artwork, and other content may not be reproduced or transmitted in any form without the written consent of the author.
http://adventureswithjude.com